Stefanie Spielman
Remembering Stefanie Spielman 1967-2009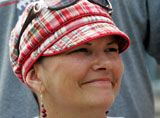 We mourn the passing of a beloved member of the Ohio State family who exhibited courage and grace almost beyond comprehension in her personal battle with breast cancer. Both Stefanie and Chris along with their four beautiful children have been an unbelievable inspiration with their courage and unselfishness.
Stefanie Spielman, whose public battle with breast cancer made her name synonymous with efforts to find a cure, died Thursday, November 19 at her Upper Arlington home. The mother of four and wife of former football star Chris Spielman was 42. Spielman had battled cancer five times since 1998. All the while, she used her high profile to raise millions of dollars for the cause. She established the Stefanie Spielman Fund for Breast Cancer Research after her initial diagnosis, considering it a life mission to raise money and awareness. "I know there's a reason God gave me breast cancer, and I'm supposed to do something with it," she said that year. As she shared her story throughout central Ohio, the fund accumulated more than $6.5 million for breast-cancer research, education and patient assistance at Ohio State University's Arthur G. James Cancer Hospital and Solove Research Institute. The charity's fundraisers include Stefanie's Champions, an annual luncheon honoring six caregivers of Columbus-area cancer patients, as well as the Buckeye Cruise for Cancer, A Christmas To Cure Cancer and about 100 other community events.
Chris Spielman — a former All-America linebacker at Ohio State, 10-year veteran of the National Football League and current sports broadcaster for WBNS radio and ESPN — expressed gratitude to the family's supporters. "Stefanie has gone home to be with the Lord," he said. "For that, we celebrate, but with broken hearts. I want to thank everyone for their support. … Together, with your help, hopefully we made a difference in this fight." After his wife's illness was diagnosed, Chris wanted to skip the upcoming professional season with the Buffalo Bills but debated how to explain his absence to the public. Stefanie saw the situation as an opportunity to serve the community. "Tell them I have breast cancer," she recalled telling her husband. "It may make one guy go hom and say: 'Honey, my favorite football player's wife has breast cancer. You got to remember to make that mammogram appointment.' "
Fundraising in her name began soon afterward, when her neighborhood grocery store, Big Bear, asked shoppers to purchase paper footballs to be displayed in the store. The goal for the proceeds, to be donated to the James, was $250,000. Within six months, donations from Scout troops, sports teams and individuals totaled $1 million.Encouraged by the response, Spielman committed herself to the cause, speaking at numerous cancer-related events and establishing her fund and the Stefanie's Champions awards. Chris, who shaved his head in support of his balding wife and eventually retired from the NFL to spend more time with her, was the first award recipient.
Dr. Michael A. Caligiuri, director of OSU's Comprehensive Cancer Center, which includes the James, called Spielman a "warrior" who inspired others. "This kind of activism was the only way to go for her," he said. "In a way, it was her calling." Stefanie shared her experience with the public even as she suffered from the disease, publishing excerpts from her journal in The Dispatch in 1998 as she underwent her first round of treatment. "I do not feel sorry for myself. I do not wish this would have happened to anyone else," she wrote on July 11, 1998. "I pray I grow stronger with each passing day. "I cannot let this get the best of me, and I will not let this ruin the rest of my life — no matter how long it is."
In March, her cancer returned for the fifth time, forcing her to miss the 2009 presentation of Stefanie's Champions. The event was a favorite of Spielman's, said Jennifer McDonald, director for fundraising events at the OSU Medical Center, who worked with her for six years. "She welcomed with open arms anyone who wanted to have a moment with her," McDonald said. "She was full of hope, and she shared that with everyone she met." Spielman's last major public appearance was in September, during a halftime ceremony at the OSU-Navy game honoring her husband's election to the College Football Hall of Fame. Though visibly weakened and in a wheelchair, she waved and smiled for the sellout crowd. "It was very emotional for everyone in the stands, including me," said OSU President E. Gordon Gee, whose first wife, Elizabeth, died of breast cancer. "She was given the gift of having a visible life, and she wanted to give that gift to others."
In a statement yesterday, seven-time Tour de France winner and cancer survivor Lance Armstrong called Spielman a model of strength and courage. "We have lost a leader in the fight against cancer. Her perseverance was unmatchable," he said. "For her sake, we will continue the battle she fought against a disease that claims too many women all over the world."
Ohio State football coach Jim Tressel also released a statement: "On behalf of the entire Buckeye football family, we send our love, thoughts and prayers to the Spielman family. Stefanie has inspired the entire Buckeye nation and Columbus community with her courage and strength. We will miss her and will always remember the lessons we learned from her. She will always be a special Buckeye."
We can honor Stefanie, her family and our university by helping to keep her dream of conquering breast cancer alive. Memorial contributions can be made to The Stefanie Spielman Fund for Breast Cancer Research or The Stefanie Spielman Patient Assistance Fund. Contributions to either fund should be sent to The James Development Office 660 Ackerman Road, P.O. Box 183112, Columbus, Ohio 43218-3112. Please visit www.schoedinger.com to view Stefanie's tribute video, offer your condolences, and receive information to watch her memorial service via webcast. God bless Stefanie and her family.